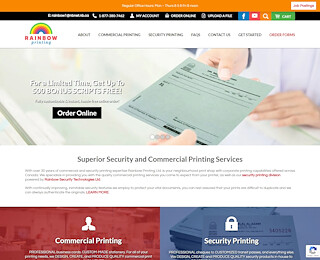 Commercial Printing Sussex
Rainbow Printing Ltd. is a New Brunswick-based print shop that has serviced the community, and businesses across Canada and the U.S. for over 30 years. We are primarily a commercial offset and digital printing operation, which also has a dedicated security printing division.
Our commercial printing capabilities are comprehensive; we follow a 'small-by-design' approach, but only in terms of personal attention and that 'family feel' customer experience.
Here are some of the reasons why customers regard us as one of the best printing companies in Sussex
Great Equipment
We house state-of-the-art equipment that is equally handled by veteran print staff. As one of the leading commercial printers around, we have a small-by-design philosophy that allows us to form custom print solutions for even the most demanding print jobs.
We also use environment-friendly products and utilize all recycling opportunities throughout our printing operations.
We Offer Affordable Services
When it comes to graphic design and printing, we have mastered the art of marrying top-notch services with affordable rates. So you don't have to break the bank to get top-notch commercial printing services in Sussex.
The Quality of Our Work is Peerless
The quality of work is unmatched as far as commercial printing goes. Our approach to printing coupled with our great equipment and seasoned staff makes commercial printing a walk in the park for us. We also provide customizable solutions that fit your printing needs. Plus, we ensure that we understand these needs so whether it is business cards, checks, stationery, die-cutting, hologram, or document printing, you'd be hard-pressed to find any local commercial printers that are as good as us.
Excellent Customer Service
Customer service is key to any business. That is why we ensure that we offer excellent customer service. We are quick to attend to your inquiries and requests so that working with us is a seamless and remarkable experience for you. Our services can also be tailored to meet our client's need, and we ensure that everyone leaves with a smile on their face.
We Have A Reputation To Uphold
We have been in the business of commercial printing for over three decades. Over time we have built a reputation for ourselves as being very knowledgeable and efficient in the printing industry. As members of the Canadian Printing Industry Association (CPIA), Checks Payment Systems Association (CPSA), Printing Industries of America (PIA), and Chamber of Commerce we have to represent these associations the best way we can.
Contact Us for Top-Notch Commercial Printing in Sussex
Have you been searching for the best printing companies to handle your commercial and security printing needs? You can call off the search party because Rainbow Printing Ltd. is here for you. We're regarded as one of the foremost security printing companies in Saint John, and we have a long list of satisfied clients to show for it. If you're ready to join our list, call us today to receive a quote for your graphic design and commercial or security printing project.